Take Your Florida Traffic School Course Online
Keep Points off Your License, Avoid an Insurance Increase, Save Money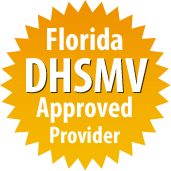 Did You Get a Traffic Ticket?
This state approved Basic Driver Improvement course meets your requirement to keep points off your license if you received a ticket in the state of Florida.
By taking this class you are eligible for:
No points on your driving record (for one violation)
No insurance increase (as long as the ticket is not associated with an accident)
Here's How the Online Course Works:
After you register you can start whenever you like
The course is 100% online
Complete the course at your own pace
After completing the course you receive a certificate, which is also automatically filed with the state
Expedited email certificate delivery available
Questions?
If you ever have questions or problems during the course, our customer service team would be happy to help! Simply contact us for assistance via live chat, e-mail or phone.