Illinois Online Driver Education
Preparation for Driver's License Exam / Collision Avoidance Training / Safe Driving Techniques
On Topic
Training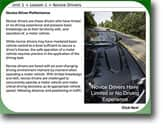 Comprehensive
Reviews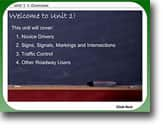 Reinforcement
Exercises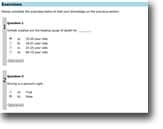 Our 6-hour Illinois Online Driver Education course covers all the essentials of first time driver training in one interactive course. Students will benefit from viewing real driving situations and innovative visual aids aimed to create an engaging and convenient way to learn driving's basics.
Students will complete the following seven modules:
Your License to Drive
Right of Way
Traffic Control Devices
Controlling Traffic Flow
Alcohol and Other Drugs
Cooperating With Other Roadway Users
Managing Risks
At the end of each module, students will work through a short quiz that tests their understanding of the driving best practices they just learned.
Benefits Of The Course
Complete at your own pace
24/7 Live Support
Two chances to pass the final exam
Prepares drivers for commonly experienced driving challenges
Includes real-world scenarios to foster relevant and comprehensive learning
Because the entire course including exercises is completed on your computer, you'll never have to worry about rushing back and forth between your house and a classroom or rearranging your schedule.
You'll be able to complete the course any time you want with 24/7 access and you can log on and off as many times as you like without losing any of your saved work.
Illinois Driver Education is easy to follow and understand and a great training tool for new drivers of all ages.
Ready to get started?