The Quickest, Easiest, Most Affordable and Convenient Way to Meet Your Defensive Driving Requirement
The SafeMotorist defensive driving course is approved and certified by the state of Missouri. This course will ensure that you will receive no points on your driver's license after successful completion of the course.
This Course is Missouri State Approved
Here's Our Certificate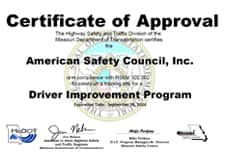 You will have 24-hour access for 60 days after registering for the course, so you can complete your course at your convenience, and even log on and off as many times as you need to without having to start back from the beginning.
Your online traffic course from the American Safety Council comes to you at the lowest possible price with no hidden fees. You'll get the course and validated certificate mailed to you for the low price of $19.95 (no extra charges and we pay shipping and handling!).
Your certificate will be mailed to you on the same day of successful completion of the course if completed before 1 p.m. CST, or the next business day if completed after 1. If you need faster delivery, you can choose our email delivery service at any time before, during or after completion of your course for an additional fee.
After receipt of your traffic school certificate, you simply take the certificate to the clerk of the court in the county in which you received your ticket and no points will be assessed to your license (the address for the clerk of the court office can be found at the bottom of your ticket).
When you're ready to register for your online defensive driving, simply click the register now button.
If you have any questions about how the American Safety Council online traffic school meets the requirements for the state of Missouri, please call 1-800-393-1063 or email after hours at info@AmericanSafetyCouncil.com.
Let us help you make your traffic ticket a thing of the past!