Oklahoma Online Driver Education
Preparation for Driver's License Exam / Collision Avoidance Training / Safe Driving Techniques
On Topic
Training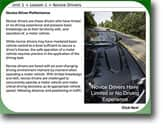 Comprehensive
Reviews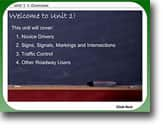 Reinforcement
Exercises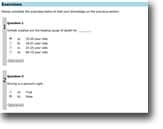 Our 30-hour Oklahoma Driver's Ed Course covers all the essentials of first time driver training in one interactive course. Students will benefit from viewing real driving situations techniques to demonstrate how safe driving maneuvers can help prevent collisions. Parents benefits from the techniques provided to help teach their teens with the required behind-the-wheel training.
Students will complete 12 modules which include the following topics:
Basic driving maneuvers
State laws, local ordinances
Rules of the road
Road signs, signals
Familiarity with the Oklahoma Driver's Manual
Effects of alcohol and substance abuse on the driving process
Driving skills
In each module students will work through a, short quiz that tests their understanding of the driving best practices they just learned. The course also includes 11 behind-the-wheel modules that provide parents with techniques to guide their children through the required 55-hours of behind-the-wheel training. These modules have NO quizzes.
Benefits Of The Course
Tips for the behind-the-wheel training
Unlimited chances to pass the module quizzes and 3 chances to pass the final exam
Take the course on any deceive
Instantly downloadable certificate upon course completion
Provides 24/7 Live Support
Because the entire course including exercises is completed on your computer, you'll never have to worry about rushing back and forth between your house and a classroom or rearranging your schedule.
You'll be able to complete the course any time you want with 24/7 access and you can log on and off as many times as you like without losing any of your saved work.
Oklahoma Driver's Ed is easy to follow and understand and a great training tool for new drivers of all ages.

Ready to get started?