North Dakota Online Driver Education
Preparation for Driver's License Exam / Collision Avoidance Training / Safe Driving Techniques
On Topic
Training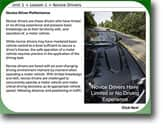 Comprehensive
Reviews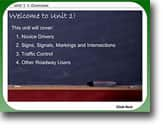 Reinforcement
Exercises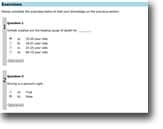 The SafeMotorist 30 Hour driver education program covers all the essentials of first time driver training in one interactive course. Students will benefit from viewing real driving situations and completing exercises that demonstrate how safe driving maneuvers can help prevent collisions.
Students will complete the following 9 driver training units:
Your Responsibility as a Licensed Driver
Motor Vehicle Operation Fundamentals
Basic Maneuvering Tasks — Low Risk Environments
Basic Maneuvering Tasks — Moderate Risk Environments
Limited Access Driving Environments
Immediate Risk Information Processing
Driver Performance — Personal Factors
Operating a Motor Vehicle — Adverse Conditions
Vehicle Systems and Performance
At the end of each unit, students will work through a comprehensive exam that tests their understanding of the driving best practices they just learned.
Benefits Of The Course
Teaches defensive driving and collision avoidance techniques
Includes Lesson Reviews and Exercises to help reinforce learned laws and maneuvers
Presents real driving scenarios to help new drivers evaluate risks
Provides essential tips for driving in adverse conditions
Gives new drivers the basic tools to know how to react in common driving situations
Great for Teens and Adults getting their first driver's license
Because the entire course including exercises is completed on your computer, you'll never have to worry about rushing back and forth between your house and a classroom or rearranging your schedule.
You'll be able to complete the course any time you want with 24/7 access and you can log on and off as many times as you like without losing any of your saved work.
SafeMotorist Driver Education is easy to follow and understand and a great training tool for new drivers of all ages.
Ready to get started?
North Dakota Safe Motorist Driver's Education
Note: SafeMotorist Driver's Education is not intended to meet specific state requirements. This educational course is designed with the new driver in mind to introduce defensive driving strategies, assist in risk identification and rejection by novice drivers, with the primary objective of reducing the serious consequences of traffic collision involvement. Completion of this course may also assist in the preparation for the driver's license exam.